The 2019 Reiki Retreat at Sea has now come to a joyous close! Click here for a short recap. Check back soon for details on the 2020 Healing Conference at Sea.
Coming September 2019 
Embrace community and unlock your healing potential on a Reiki Cruise full of learning, laughter, and friendship.
Set sail from the Port of Tampa on September 5th for four days and nights full of learning, healing, and community.  On this inclusive cruise, embark on a journey of awakening with seekers and healers who share your interests. Learn Reiki while at sea or take time to relax and enjoy the many amenities of the Carnival Paradise.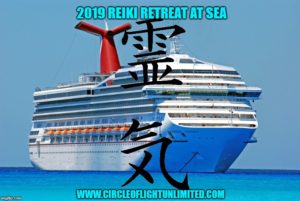 While on board, you'll have the opportunity to learn energy healing by taking all three levels of Usui Reiki classes.  You'll get 12 hours of classroom training (CEs available for massage therapists), hands-on practice sessions, a 50+ page instruction manual, and three attunements. Niki has been a Reiki Master for over 15 years. Click here for detailed information about the scope and quality of Reiki classes from Rev. Niki Kissell and Circle of Light Unlimited.
Return to Florida a Reiki Master!
If you already practice Reiki or just want to come along with friends and family, we welcome you too! Separate pricing is available. Everyone with our group has the option of participating in morning and evening circles where you'll take part in energywork, meditation, intuitive readings, and connect with one another.

Experience the Paradise of the Caribbean
All tickets include an excursion to tour the ancient Mayan ruins of Tulum, Mexico. We will hold a water ceremony on the beach there.
We'll set sail from the Port of Tampa on Thursday afternoon September 5th and arrive back on Monday morning September 9th.
Of course you'll experience all the perks and excitement a luxury cruise offers: 24-hour dining, live entertainment, fun activities, world-class service, and more!
Click here for details.
We are now less than $90 days from sailing! Prices are still low for the moment, so call today and reserve your spot on this amazing adventure!
Sign up with the form below or join our Facebook group to keep up with all the latest announcements as the cruise date approaches. 
All healers, lightworkers, energyworkers, new age practitioners, psychics, intuitives, and spiritually minded individuals are welcome. We invite everyone from the Tampa, St. Petersburg, Sarasota, Bradenton, Venice, Port Charlotte, New Port Richey, Lakeland, Orlando, The Villages, other parts of Florida and beyond to join us!